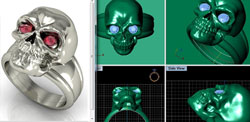 3D Jewelry Designs Services
In the past, I love designing jewelry with pencil and paper and seem very traditional, but in silver jewelry business customers need more services, hand carving is limited, finally I bought Solidscape 3D wax printer and hire some computer designers to transfer my drawing. Service only for custom order customers.
Gemstones Set on My Silver Jewelry
All the gemstones I use are real and of high quality. The only synthetic stones I use are Cubic Zirconium (CZ) which does not exist in a natural state. We import our gemstones from Bangkok, Thailand and Hongkong.